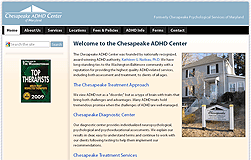 Chesapeake ADHD Center of Maryland is my most recent client: an ADHD psychotherapy practice in Silver Spring, MD. As was the case with Ann Dolin's site, the original codebase was inherited. Apparently, the website was originally created in an old version of Dreamweaver — and all of its WYSIWYG glory. Sigh. With over 150 pages (and file names such as cooltext449991252_001.png) the codebase had become an unmaintainable morass of untemplated spaghetti, with nary a single redeemable line of code. The site was razed to the ground and reborn in the ashes.
Chesapeake ADHD has undergone more of a reorganization than a redesign; in fact, I view my design as more of an improvement upon the original — the essential design elements can still be seen.
When I inherited the project, the site's Page Speed score was a somewhat respectable 78. Now? Try 96. The law of diminishing returns should kick in soon.